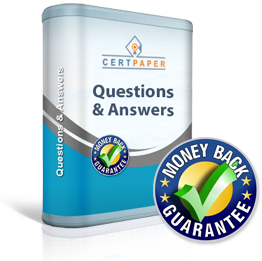 The Latest, Up To Date IT Question & Answers.
Updated Weekly. Instant Download.
Search 1,800+ Exams Available


Testimonials
"Great job guys! You have awesome material there. One read got me thru MB3-533. Tnx."
"Everyone thought 070-642 is tough. I was scared but I had faith in CertPaper since I have used it for all my past exams. And voila! I passed even this time with an 85% score."
"Your site is excellent support very helpful and the exam content is better than a competitor I used to use. At least for exam 070-640. "
"I chose Certpaper after reading the testimonials. The first exam I wrote was MB3-230 and I passed it. Certpaper actually is the best resource in the market. You cannot get better than this."