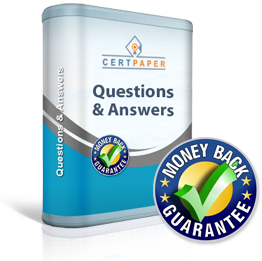 The Latest, Up To Date IT Question & Answers.
Updated Weekly. Instant Download.
Search 1,800+ Exams Available


Testimonials
"After failing at my last attempt with 70-270, I went for CertPaper prep this time and it didn't let me down. Even I have one certification today, all thanks to CertPaper."
"This is the most cheerful news for me this year. I passed my 70-624!"
"I studied for my Mb3-637 from various resources but failed. Then I opted for certpaper. I only read your questions and answers once. This one reading was more than enough. I passed my exam and am so happy with my results, that I have been referring you guys left and right! :D"
"I chose Certpaper after reading the testimonials. The first exam I wrote was MB3-230 and I passed it. Certpaper actually is the best resource in the market. You cannot get better than this."