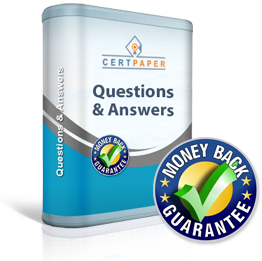 The Latest, Up To Date IT Question & Answers.
Updated Weekly. Instant Download.
Search 1,800+ Exams Available


Testimonials
"I TOOK YOUR PREP RESOURCES FOR 156-310 AND AFTER USING ONLY THE Q&A, I ATTEMPTED THE EXAM AND PASSED WITH A 935! I FINISHED THE EXAM WELL BEFORE TIME TOO. NOW I AM SITTING FOR 70-306 AFTER STUDYING YOUR MATERIAL AGAIN. I TRUST YOU COMPLETELY.THANKS."
"I wud like to thank you for this and I will certainly make sure that during CCNP I will go ahead and use your exam papers."
"I was thinking of the option of choosing between certpaper and another online source when I was preparing for my SQL Certification. It is a step that changed my life as I came to certpaper and then I never had to look back. That was one thought I always thank fate for because without the assistance of certpaper, I would never have been able to do so well in such a tough time let alone pass it. Certpaper is the trainer that made me capable of getting great success in the SQL Certification. Craig Martin."
"The value bundle I got from CertPaper was such a cost-effective solution for me, I prepared and gave all the exams back to back and passed in first attempt."